Remembering our friend and Trustee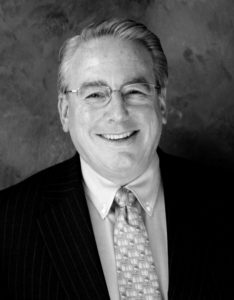 Alan C. Mendelson (1948-2021)
A TRUE GOLDEN BEAR
The UC Berkeley Foundation mourns the recent loss of Trustee Alan C. Mendelson (UC Berkeley – B.A. 1969, Political Science; Harvard University – J.D. 1973). Our deepest condolences go out to Alan's beloved wife Agnès, children David and Jonathan, and grandchildren Ella, Ethan, Laina and Trevor.
Alan earned his B.A. in political science from Berkeley in 1969 and his J.D. from Harvard University in 1973. In 2020, Alan retired from a long and distinguished career as an attorney. Most recently he was a partner at Latham and Watkins LLP, where he served as the Co-chair of the firm's Life Sciences Industry Group and the Emerging Companies Practice Group. The Legal 500, an industry publishing firm, ranked Alan among just four individuals to receive a star in its Hall of Fame for legal professionals serving the life sciences sector. Alan was the first service provider to receive the Life Sciences Leadership Award at the BayBio Pantheon and was repeatedly recognized as one of the 100 most influential lawyers in the United States by the National Law Journal. He served as General Counsel and Secretary of Blade Therapeutics and was the corporate secretary for many public and private companies.
An extraordinary campus partner, Alan served as President of the Cal Alumni Association and served as an Alumni Regent for the University of California. He was the President of the National Kidney Foundation of Northern California, Inc., and served as a member of the major gifts council of the Lucile Packard Foundation for Children's Health, and the Board of Overseers Visiting Committee of Harvard Law School. He served as a member of the board of trustees of the Scripps Research Institute, the California Coalition for Public Higher Education, and the UC Innovation Council.
Alan also previously served on the Board of Trustees of The Buck Institute for Research on Aging, the Board of the American Friends of Rambam Medical Center in Haifa, Israel, and on the Board of Directors of the California Life Sciences Association (CLSA).
As noted in a recent Cal Athletics article, Alan was destined to be a Golden Bear. His father, Sam '43, ran track for Cal. However, Ed Weiner, one of four cousins who attended Cal, provided the seminal experience that sealed Alan's collegiate destiny. Alan was ten years old when Weiner took him to Harmon Gym for the final regular-season men's basketball game on March 7, 1959 — Cal's NCAA championship year. Weiner's connection to Cal player Ned Averbuck earned Alan locker-room access following Cal's 55-52 win over Oregon State. Alan secured star Darrall Imhoff's autograph, and from that moment, he knew he wanted to go to Cal.
"I didn't apply to any other schools but Berkeley," said Alan.
Alan's leadership can be felt across the Berkeley campus and beyond. Alan and his wife, Agnès, are Builders of Berkeley, and they championed an array of impactful initiatives across campus. They have given generously to the Athletic Director Excellence Fund in support of the Roll On campaign to support COVID relief efforts, which helped the campus continue its tremendous progress to keep student-athletes safe and secure while they trained, studied, and competed. Alan's generous support also included gifts to establish and benefit the Mendelson Fellowship Fund, which helps to recruit and retain students who show great promise in the field of chemical biology. Alan supported the renovation of the Faculty Club, the Cameron Institute for Student-Athlete Development, and the College of Chemistry's students at the undergraduate and graduate levels and the Diversity, Equity, Inclusion and Wellness Fund. Alan was also a member of the Friends of Haas Business School and the Benjamin Ide Wheeler Society.
Alan had many varied and cross-departmental interests and cared deeply about research. He served on the College of Chemistry Advisory Board and was a longtime supporter of the University Library, gave generously to the Oral History Center, served on the Library board, and the Council of Friends of The Bancroft Library. Alan was an advocate for a positive campus climate; his support and advocacy for the Library's Center for Connected Learning helped to foster understanding and cooperation among students across areas of difference.
While Alan's championing of Berkeley reached all corners of the campus, he was deeply involved with
the College of Chemistry, the Library, Athletics, the California Alumni Association, and the Foundation,
and so we have gathered some reflections about Alan from these areas to share.
COLLEGE OF CHEMISTRY
Doug Clark, Dean, College of Chemistry: Alan was not only a great friend and supporter of the College
of Chemistry, having served on our advisory board for over a decade, he was also a trusted advisor to me as dean. Many times I consulted him, as he always made himself available, and I could always count on him to provide sound (and unfiltered) advice with candor and humor. Clear-headed wisdom, a no-nonsense outlook, and a passion for all things Cal were among his trademarks. Talking to him always made me feel better, and wiser, whatever the issue. We are a better college because of Alan and his many contributions, and we owe him a great deal. He will be dearly missed, but remain in our hearts.
Michael Marletta, Chemistry Professor and Alan's dear friend: It is difficult not to overstate what Cal
meant to Alan and what Alan meant to Cal. His commitment was unwavering, be it in our academic mission or athletics. We are a much richer place because of Alan Mendelson. Cal will miss him dearly as will his many friends. I will always cherish my friendship with Alan and what will live on is all that he taught me along the way.
Laura Smoliar, Partner in the Berkeley Catalyst Fund: Alan was the visionary that challenged us to figure out the Berkeley Catalyst Fund (known as BCF); specifically a way to commercialize the plethora of technology in the UC Berkeley College of Chemistry for financial gain by the College of Chemistry. While others saw insurmountable challenges, he extended an encouraging hand and made the key connections to the UC Berkeley Foundation and others in the ecosystem to nurture the establishment and growth of the fund. It was a privilege to work with him and put his generosity to work in the way he had intended.
THE UNIVERSITY LIBRARY
The Library Board and staff join others in expressing profound sadness for the loss of Alan Mendelson. Alan's death is a great loss to his friends and family, of course, but also to his community, to Cal, and to the Library. In all of his work for the campus, Alan led by example, both as a very generous donor but just as importantly by being a very active and engaged doer.
Alan was a longtime supporter of the Library who joined the Library Board in 2017 at the recommendation of his longtime friend Charles Faulhaber, former director of The Bancroft Library.
As his relationship with the Library grew, Alan became the champion of how important the Library is to students. He chaired the Campaign for the Center for Connected Learning at the Moffitt Library – making his own gift and using it as a challenge to encourage the rest of the Board to join him. Alan's generosity went beyond financial contributions. He and his wife Agnès opened their home by hosting events for Library donors on the Peninsula. His leadership included expansion of the Library Board by bringing in new members from his professional associates as well as those he knew through his decades-long service to the California Alumni Association and the UC Berkeley Foundation. We shall deeply miss his advice and wit. We will be eternally grateful for Alan's dedication and leadership at the Library.
CAL ATHLETICS
"I know I speak for many people on our campus and in our department when I say that we will miss Alan's friendship and kind heart. We will forever be grateful for Alan's steadfast loyalty both in attending games and his support of our student-athletes. Alan was a true Golden Bear." – Jim Knowlton, Director of Athletics
Cal's student-athletes benefited immensely from Alan's commitment to the department. A football and men's basketball season-ticket holder, Alan gave generously to numerous department and program priorities, including the football coaches salary fund, baseball endowment and most recently a gift to the Roll On campaign to help Cal Athletics through the pandemic. Alan had strong relationships with athletics leadership and many coaches over the years; he always cited those connections as part of why he supported the Cal Athletics mission and vision.
Notably, Alan's pledge to grow the Cameron Institute endowment will benefit current and future Bears. The Cameron Institute, which prepares student-athletes for life after graduation, piqued Alan's interest for his Light the Way campaign gift.
"It might help a coach recruit a kid who might make a difference because he or she will look at Berkeley not just as a place with the best public education in the world but as a place where someone might look out for the student afterwards," Alan said.
Alan had always been impressed with the Cal student-athletes he met. He shared that he knows that they love what they do and is excited to help them by supporting the Cameron Institute. "They are going to go on with their lives afterwards," Alan said. "To contribute to their overall experience at the University both in terms of athletics, academics and socialization is a very positive thing."
CALIFORNIA ALUMNI ASSOCIATION
The Cal Alumni Association extends its profound appreciation and gratitude to Alan C. Mendelson '69 for his distinguished service to UC Berkeley and the Cal Alumni Association (CAA). Alan was passionate in his efforts to ensure that UC Berkeley and the Cal Alumni Association were committed to the welfare of educational excellence and social advancement. He provided outstanding leadership and guidance as an eminent philanthropist and volunteer who advocated on behalf of Cal's 550,000 alumni community.
Alan generously endowed CAA's The Achievement Award Program (TAAP) scholarship in honor of his brother, Dr. Laurence E. Mendelson, to support low-income, first-generation college students in the pursuit of a Berkeley education.
Alan joined the Cal Alumni Association Board of Directors in 2005, and his dynamic leadership was recognized when he was elected CAA President in 2009.
Alan served as CAA President from 2009 – 2011, and among his many accomplishments, CAA's Golden Bears Life Membership program was established during his tenure, through his leadership and support. The Golden Bears Life Membership program provides alumni the opportunity to be recognized for their Cal pride and lifetime allegiance to UC Berkeley — qualities Alan so deeply embodied. At the conclusion of his term as CAA President, Alan continued to passionately represent the Cal alumni community in his role as UC Regent from 2011 – 2013. Alan served the Cal Alumni Association with tremendous integrity and vigor, and he will be greatly missed by CAA.
UC BERKELEY FOUNDATION
An active member of the UC Berkeley Foundation's Board of Trustees, in addition to chairing the Programs Committee, Alan served as a member of the External Affairs Committee, the Executive Committee, the Nominations Committee, and the Awards Taskforce.
During a year of unprecedented challenges brought on by the pandemic, Alan strongly advocated for pivoting the full trustee meetings to a virtual format and adding extra meetings so that trustees could have more opportunities to connect with campus. Alan's thoughtful counsel as chair of the Programs Committee led to content-rich meetings that received overwhelmingly positive feedback and strong attendance. As a member of the External Affairs Committee, Alan strengthened external support for Berkeley by leveraging his networks, resources and passion to advance campus priorities. As a member of the Executive Committee, Alan could always be counted on for contributing perceptive and balanced questions and insights. Alan's participation on the Nominations Committee and his nominations of candidates helped to build the bedrock for the future of Berkeley.
"Alan's service to the foundation and to so many other important organizations and causes was extraordinary. He was a leader in his field who brought his tremendous talents, along with his lifelong devotion to Cal, to his role as a Trustee. It goes without saying that Alan's impact on Berkeley will endure. I am extremely grateful for his long-time thoughtful and caring committee involvement, chairmanship of the Programs Committee, and his membership on the Executive Committee of the Foundation." – Jim Koshland, Immediate Past Chair, UC Berkeley Foundation